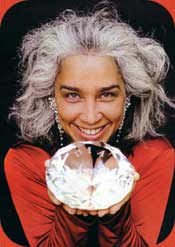 "A friend said that if you want to get your work on the international market, win a prestigious award at the beginning of the new millennium, because that will really be a story.
I said, to myself, 'Okay, let's win it!' – and I did!"

Brazilian-born jewelry designer, Premen, is shown on the left holding the prize she received for her winning entry in the De Beers Diamonds-International Award 2000.
Considered the "Oscars" of the jewelry industry, it is the world's largest and most prestigious jewelry design competition.
It was a breakthrough, not only for her as a professional jewelry designer but as a meditator.
Warm, smart, articulate – and stunningly beautiful to boot – Premen has the kind of creative intelligence that finds expression in virtually any field she might care to turn to. She has been a musician and a professional dancer as well as portrait sketcher, clothes designer, "hair sculptor" and, now, most famously, as a jewelry designer.
Her feminine, creative aspect is balanced by the curiosity of a natural scientist. It is the latter that has her delving into questions such as "What does music do to listener?" "How does a certain stone affect someone?" "How to find a name for a piece I create? How will that name affect the person who buys or wears it?"
The creator and inquirer within her mesh in her self-described work as an "art scientist." In fact she sees all creative people who integrate meditation into their work as being art scientists.

A meditator for more than eighteen years Premen regularly finds time each day to listen to an Osho audio discourse.
"When I start getting stressed I always do twenty-one days of Dynamic meditation. That's usually two to three times a year! Sometimes I get together with others to do Kundalini – everybody loves that – however, most of the time I meditate totally alone."
But she sees meditation less as an activity and more of a quality that transforms her jewelry-making.

"I felt that my entering the competition would be a door in getting across the message of the inner diamond: the silent space that radiates outwards, that everyone can see.
"Now that I have established myself as an award-winner, I have a certain status – I'm not some off-the-wall weirdo or eccentric! – and people listen to people who have won something. That's just the language of the world: 'Show you are successful in our terms and then we can talk!' This is the game, this is the way the world operates, so I play the game."