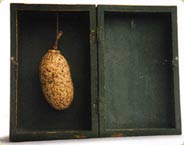 "Sometimes I look at my art and I can't believe I have done it and I became afraid that I won't be able to produce another piece.
Yet it keeps happening, so I am slowly gaining the confidence that if I stay open it will happen.

"But I really don't feel like the 'doer' in this, in the sense of my projecting anything of me into what happens; I am providing the hands for some impersonal force.
Right from the beginning I understood that meditation wasn't something you do, but the way you do anything.

"'Anjali' means prayer and Osho told me that whatever you do one hundred percent becomes an offering to existence – no matter what it is.
What's important is that you put yourself into it completely.
I love intensity anyway – being a Scorpio! – so that felt right on for me and has definitely been a key, a koan that keeps coming back to me."
She is making money, Anjali says, but is quick to add that this isn't her focus.
She has several exhibitions to prepare for – Ibiza, in October, and in Dreieich, her hometown near Frankfurt in Germany, in November, and a third next February at the Goethe Institute in Pune – so how this will all pan out financially remains to be seen.
But she isn't fazed by the insecurity this might throw a less spunky soul into.
"If I can make a living of it, if inspiration keeps coming, great! If not, something else will turn up," she says confidently.

"What is happening with my work feels extremely juicy, extremely right.
At the moment I am on a wave.
Sometimes in life you know when you have hit the mine, the source.
That's what it seems like to me."
Copyright© Osho Times International